Graphic Arts
The story of a passion for image...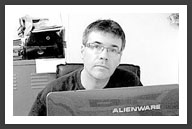 The story began on the day when a child took a pencil. For the sake of giving life to his thoughts and desires, he never stopped to fill his sketchbooks, and margins of his notebooks.
After some rather "technical" studies, it is always the Graphic Arts that fascinate the boy older, so it was in a publishing house where he will make his debut as a traditional illustrator. We are in 1986 and the following year, the young man can "finally" try first systems of desktop publishing on PC and MAC.
At this time,we are still far from softwares we use today, but a new passion was born with these new tools. From this point, the evolution of the profession, will be done very quickly, fast-paced advances in information technology, the rise of the materials, and the arrival of the Internet . This ranges from illustration to video editing, to desktop publishing or web site creation.
Not enough to rest on its laurels, in 1997 with the discovery of the first software-performance 3D image synthesis, which allow to renew the pleasures, and above all, to push even further the scope of investigation of the greedy image I've always been.
No limit to creativity ... if the image is a passion, it is also a need !
After 23 years in the corporate publishing world, I chose to live my passions by becoming fully independent artist in 2010.
If my current work revolves mainly around 3D reconstructions computer images, I continue to provide my services to traditional communication: Print, Web, Photo, Video, 3D still or moving, Multimedia...